Delete media item?
Delete this item from the media gallery? It will also be deleted from any related story update.
Set as ?
The campaign video will appear in social media and email.
The campaign cover picture will appear in social media and email.
The will appear at the top of your campaign page and in social media and email.
Reset ?
It won't be used as default in social media and email. The will remain in the media gallery.
It will be removed from the top of your campaign and won't be used as default in social media and email. The will remain in the media gallery.
Delete update
Delete this story update?
Any pictures or videos will remain in the campaign's media gallery.
Dear friends,
I am disabled and queer. I was a doula and nanny, and before that I was a professional baker and chef. I want get the Alinker because I have severe fibromyalgia and balance issues. It is SO HARD going from BEING THE HELPER, to NEEDING HELP. But I know that our burdens are always lessened when we share them. It's a lesson I learned well as a doula, and as a member of both the queer and disabled communities. Together, we are capable of joyful abundance and heartfelt care.
To that end, I am asking you to help me gain the mobility that the insurance company feels is an unnecessary luxury. 
It's been a challenging couple of years for me and my wife Penny. We both had Covid in January of 2020, before they started testing for it or we even knew we should be concerned about it. Covid caused or exacerbated a lot of health issues for both of us. 
I have debilitating pain now due to a massive increase in my fibromyalgia symptoms,. I've also been having memory and cognitive problems which makes everything more challenging. Due to my fibromyalgia and arthritis in my wrists, elbows, and shoulders more traditional mobility aids are not helpful as they either rely on using arm and wrist strength for support, or in the case of a wheelchair they take away what mobility I have.
My wife Penny almost died of a massive pulmonary saddle embolism. At least 5 doctors have said it's a miracle she survived. (So reassuring! *sarcasim*) Her chronic fatigue syndrome got significantly worse. And now, her cancer is back after being in remission for 12 years making it even harder for her to talk and extremely difficult to eat and drink. We are on our third, and hopefully last, referral to a specialist due to the complexity of her case. (Please be aware that the Philips CPAP recall is due to the fact that something inside it breaks down and releases carcinogens. This is the machine she was using before her first fight with cancer and that she used again prior to this relapse.)
One thing that I definitely learned by traveling to Seattle to see specialists is that a manual wheelchair is not a solution that will allow me any independence. Even on a really good day it is quite literally impossible for me to get a manual wheelchair up a hill even with my wife's help. Thank goodness we have a service dog to help, or I'd have been in trouble. 
I am unable to push myself in a manual wheelchair for more than a few yards without hurting my wrists, elbows, and shoulders on a good day. On a high pain day I can't use it on my own at all.  Right now my only way to get around is with my wife pushing me in my wheelchair. I really need to be able get around without help.
I want to be able to go for walks without risking falling and hurting myself. My recently broken and sprained ankle is testament to my increased instability and need for support. I want to be able to get to doctor's appointments, get groceries, and just live my life without having to have someone help me all the time.
Our puppy also wants me to walk, so she can go to the dog park and I can throw balls for her. I need to e able to teach her I she can become a well trained service dog. Helping her get her zooms out by taking her out with the Alinker would be really good exercise for both of us!
Finally, my doctors and physical therapist want me to walk so that I can exercise, build and maintain my muscles, and reduce the number of fibromyalgia flares I get. Anyone who knows about fibromyalgia will tell you how important it is to be able to move and exercise. Ironically, the pain in my wrists, elbows, and shoulders is what stops me when I am at physical therapy, not my healing ankle. 
We are both in the process of applying for disability benefits, but it is a long process. So we currently have no income and have used most of our savings despite limiting our expenses as much as possible by living in an RV. There is only so much we can do by being frugal. Like many other LGBTQIA+ people we don't have a lot of family support. So I must ask for your help.  The insurance company may not think that I need to be able to move unaided but I'm sure you'll agree, we all deserve the freedom to move on our own! 
Thank you to all the caring people who have read this. We can do powerful, important things together. We can help each other live with dignity.
L's activity
Nothing to show yet.
L's campaigns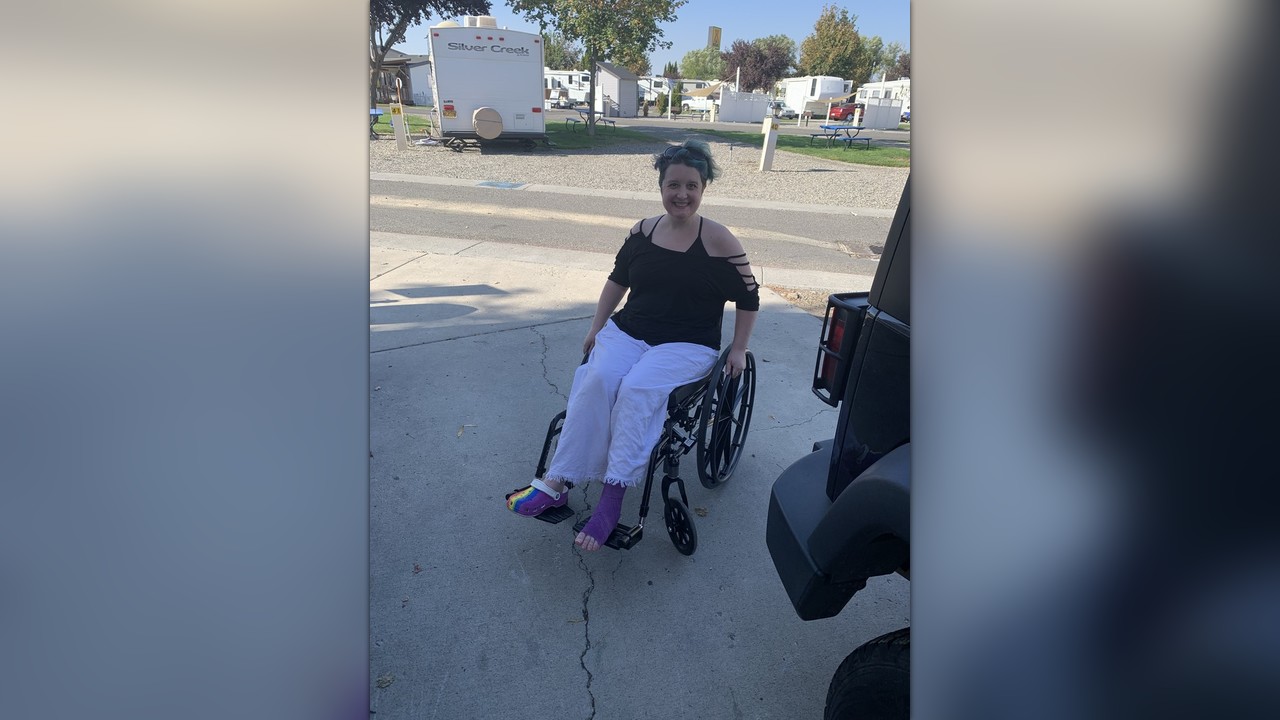 For L, this is more than just a walking bike, this is about freedom, belonging, mobility, maintaining health, connecting with the community, making friends, caring for and from others, and simply feeling like themself.
$3,015
raised of $3k goal
Finished January 27, 2022
Start a campaign like this
Profile privacy settings
Public profiles are indexed by Google and other search engines.

Show the number of campaigns run, contributions received, total raised, and date the organization started with FundRazr.
Show a chronological feed of contributions, campaigns milestones, etc.
Stats and activity can only be shown when the profile is public.
It might take up to 3 minutes until changes appear for visitors.